Beauty is much more complex than symmetry
New works by Lukas Cornix
Lukas Cornix's practice is based on his love of craftsmanship. His process is experimental, constant and versatile and he does not want to be restrained to a specific expression or theme, instead he wants to explore different topics and handle the material in a tactile and thematic way.
I want to use different materials, methods and expressions to give the subject the scene it deserves. It can be with untraditional means such as hitting a fireball wood covered in color against the painting to illustrate a collision, or as simple as using old palettes like collage to create abstraction.


Images are vandalized or distorted from something beautiful to something significant. Whether it's blurred motifs, stains hit the canvas or relocated fragments, it's there to add to the work. For beauty is much more complex than symmetry.
My sources of inspiration are as versatile as my practice. I can be interested in everyday considerations and their forms as well as experiences. The characters I meet and its stories. Events that assume narrative forms that could exist in fiction. The heartfelt emotional life and the impact of technology on man and painting.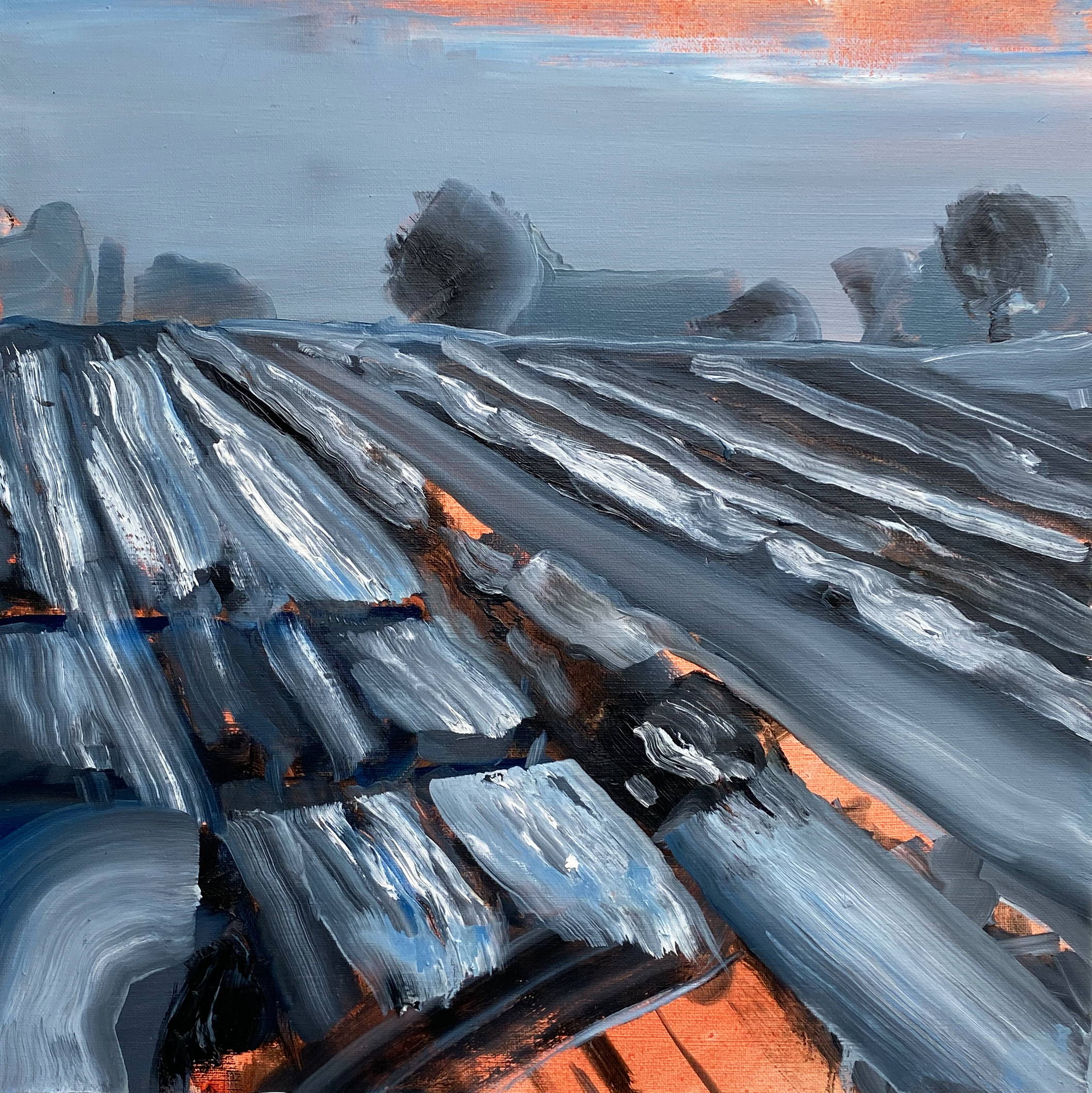 Lukas Cornix - Vermillion
Oil on canvas, 50x50 cm
Lukas was born in 1993 in Växjö. He is currently pursuing a master's program at Malmö Academy of the Arts and has previously studied at Valand Academy in Gothenburg, Gerlesborgsskolan in Stockholm and Kronobergs Konstskola. Galleri Helle Knudsen has shown Lukas Cornix's work in solo exhibitions twice and he has also participated in several group exhibitions at Galleri Thomassen in Gothenburg.
Omkonst.se - Susanna Slöör about Lukas debut exhibition at Galleri Helle Knudsen 2017: Lukas Cornix's expression draws on a dissolved spatial figuration with abstract or pattern-acting elements. References to particularly current European painting can be traced. I am thinking of the generation of German painters with breakthroughs from the 90s onwards, and also the vital Romanian scene with a painter like Adrian Ghenie who represented the national pavilion at the Venice Biennale 2015. But above all it is Cornix's obvious joy over his medium, the pure cutting lust to paint, as it turns out.

For Gallery Helle Knudsen, we have now received 5 new works by Lukas Cornix: Tear, Boundaries, Untitled, Pressure and Vermillion.