Tomas Colbengtson examines how colonization has changed people and landscapes in Sæpmie
Thomas Colbengtson was born in 1957 and grew up in Björkvattnet, Tärnaby. 1998-2008 he was a Resident Artist at the Royal Institute of Technology in Stockholm and now he works in addition to his artistic internship also as a lecturer in graphics at Konstfack, University College of Arts, Crafts and Design in Stockholm, where he himself has a master's degree in painting 1991 Tomas has worked as an artist for over 25 years and has had a large number of exhibitions in Sweden and internationally. Tomas is the founder of Sápmi salasta, the residence of indigenous artists.
Tomas art is based on memories, his own upbringing in a small Sami village in the mountains and the current situation for indigenous peoples. He works with graphics, painting and glass that he shapes into his own expression that often reflects on historical and modern social phenomena. The art reflects experiences such as language and religious prohibition, racial biological research, disgrace of yoik and other methods often used by governments to gain control over indigenous peoples and associated lands.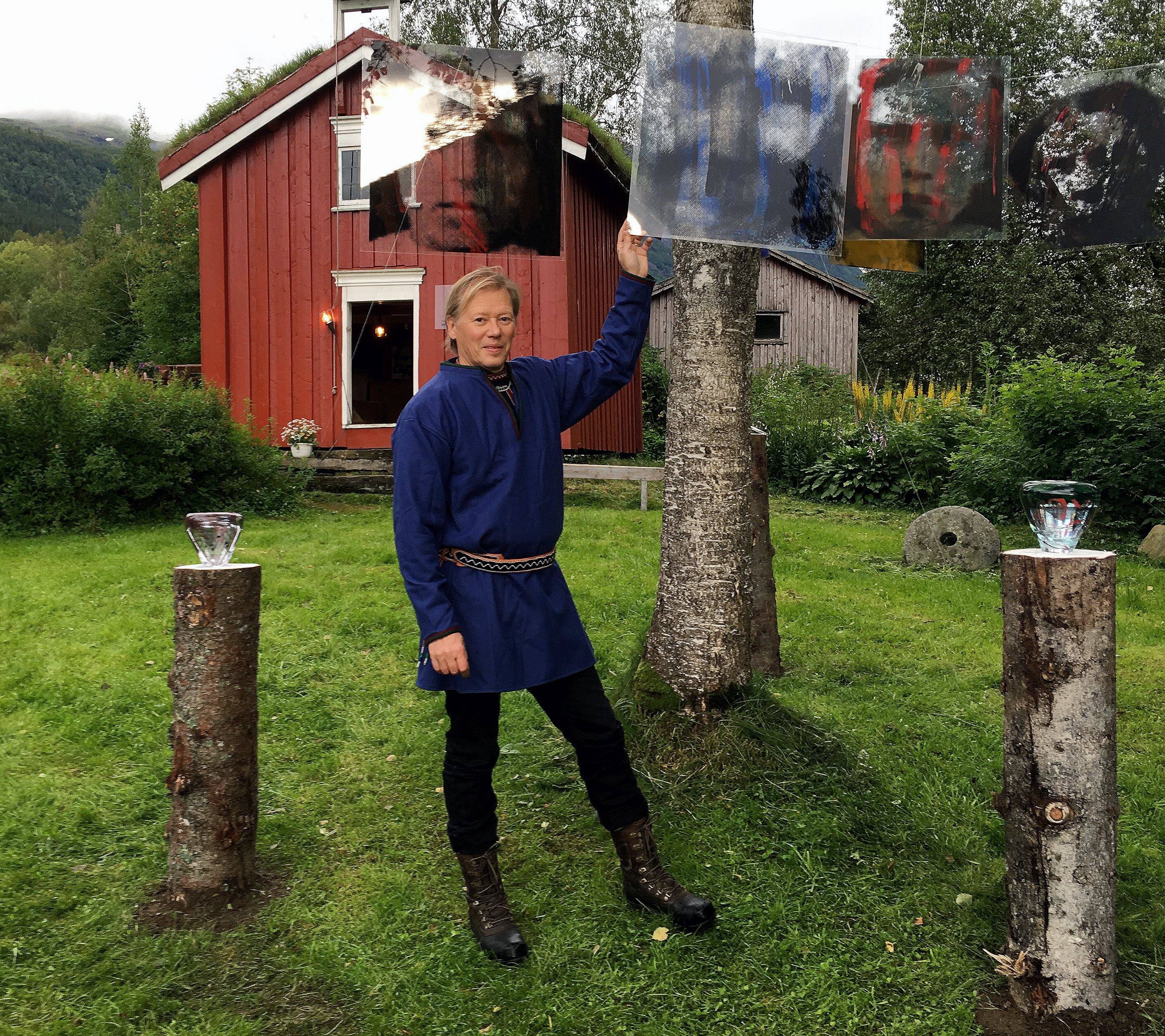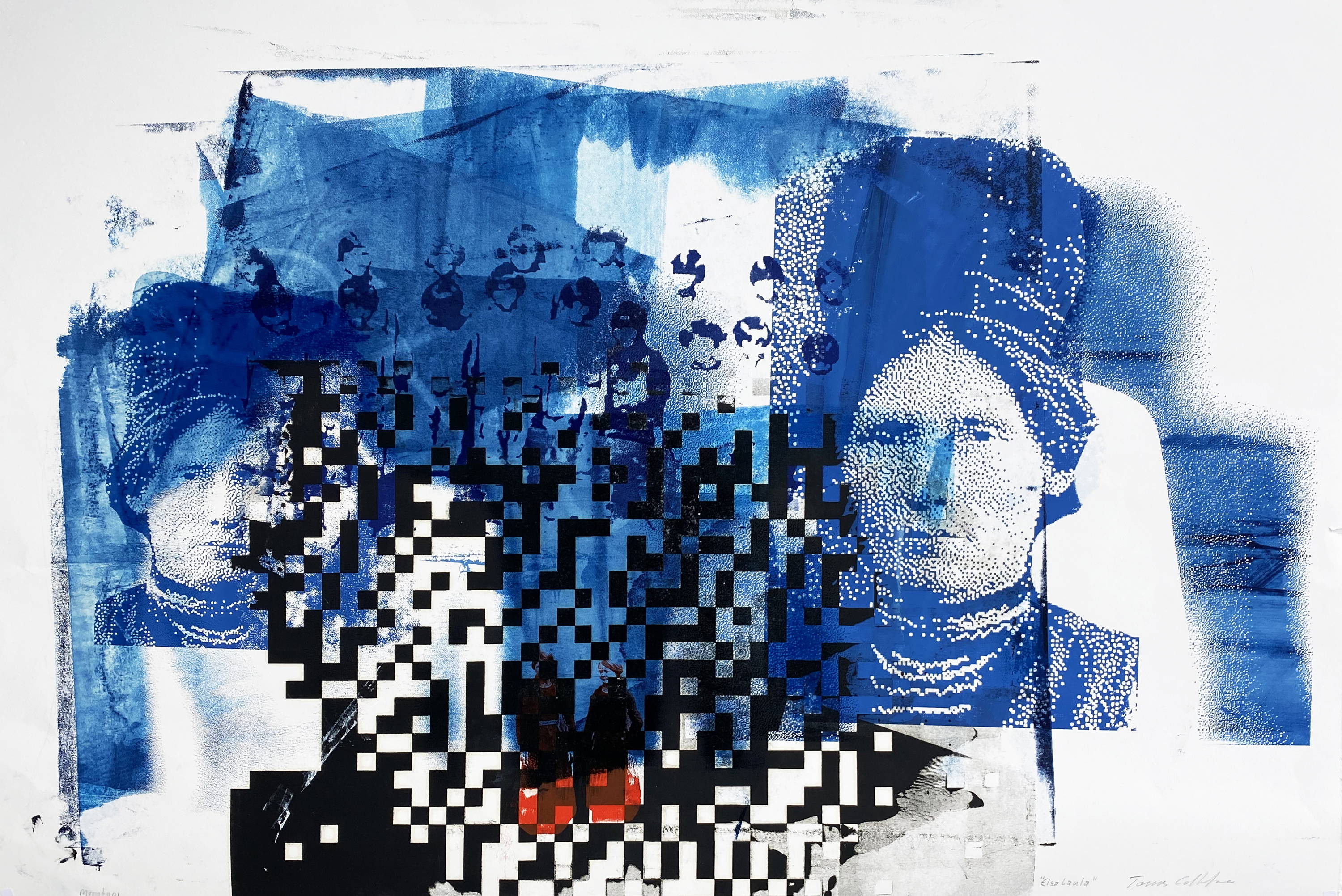 Thomas Colbengtson: Elsa Laula, monotype on paper, 59x86 cm

The Sami are Sweden's only indigenous people
In his pictures, Tomas examines how colonization has changed people and landscapes in Sæpmie. The language ban on speaking Sami in school until the 1960s resulted in Southern Sami almost completely being stopped.
Indigenous law entails the right to: Traditional land and water, one's own language, one's own religion and the right to self-determination in matters concerning one's own life situations. The Swedish state has failed to protect all these rights for the Sami.
As language is the main marker of identity, the Swedish state's policy has meant that many Sami have stopped seeing themselves as Sami. A lost identity can lead to deteriorating health.


Language and religious prohibition are colonial mechanisms wherever one looks in the world. The Sami area extends over the northern parts of Norway, Sweden, Finland and Russia.
It feels natural for me to look further around the Arctic Circle reflecting on the historical and cultural similarities that bind these northernmost lying areas.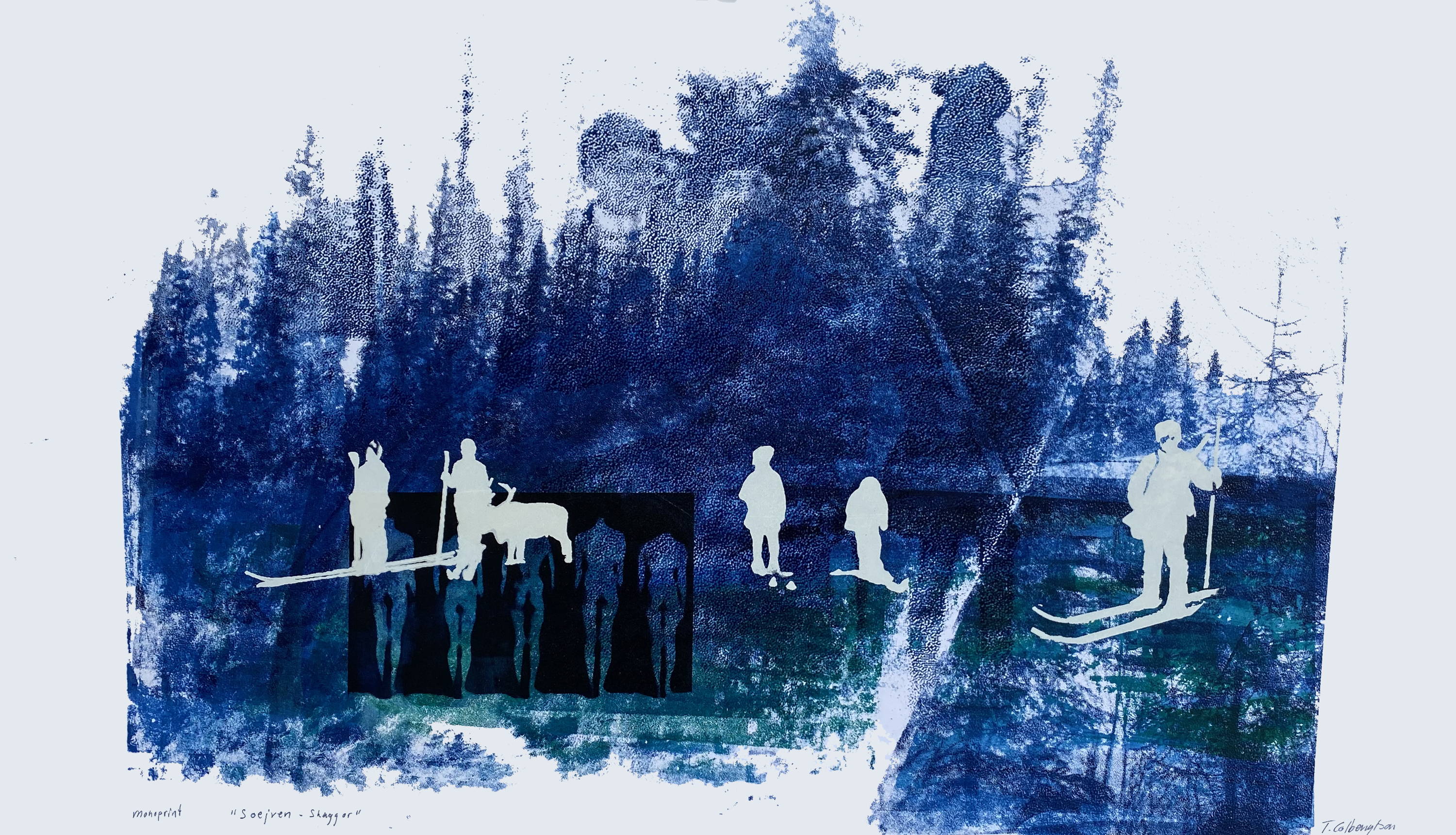 Thomas Colbengtson: Soejven - Shadows, monotype on paper, 40x70 cm


---
More about Tomas Colbengtson

Training
Valand Academy, 1995 - 1996
Konstfack (MFA), 1986-1991
Idun Lovén Art School (sculpture), 1984-1986
Upcoming exhibitions in selection
2022 Museum Cerny Bern Swiss
2021 Nordlandsmuseet, Bodø, Konsthallen Sandviken, Avesta Art, Ebelingmuseet Eskilstuna, Museum of Contemporary Art, Belgrade, Ajtté Samemuseet Jokkmokk, Kakslauttanen Art Gallery Finland
Exhibitions 2020 in selection
Museum of Contemporary Art, Belgrade, Slovenia
Alta Museum Norway
Åmål Art Gallery
Sijti Jarnge Sørsamsikt center Hattfjelldal Norway
Helgeland museum Exercise Norway
Selected public works
New National Museum in Oslo
Uppsala Art Museum
Queen Sonja's Art Collection, Oslo Akureyri Art Museum, Iceland Norrbotten Museum
Ajtté, Saemie Museum
RDM-The Sami Museum, Karasjok North Norwegian Art Museum, Tromsö Norway Saemie Parliament