Britta Marakatt-Labba: Hungrig
Galleri Helle Knudsen i samarbete med Restaurang Sturehof i samband med Sápmi-dagar på Sturehof

13/2 - 27/3, 2022
Vernissage söndagen den 13/2 kl. 16.00-18.00
Restaurang Sturehof, Stureplan 2, Stockholm
Britta Marakatt-Labba är född 1951 och uppvuxen i en renskötarfamilj i Saarivuoma sameby. Hon började konstnärsbanan 1979 efter avslutade studier vid Konstindustriskolan i Göteborg. Tidigt engagerade hon sig tillsammans med andra samiska nyutbildade konstnärer för uppbyggnad och bildande av en samisk konstnärsorganisation.
Idag bor och arbetar Britta i Övre Soppero och har varit aktiv konstnär i över 30 år. Sitt stora internationella genombrott fick hon 2017 då hennes 24-meter långa broderi "Historien" visades på samtidsutställningen Documenta 14. Verket är skapat mellan 2003-2007 och skildrar den samiska historien och mytologin i ögonblicksbilder. Broderiet hänger idag permanent i Universitetet i Tromsø.
För sin konst har hon fått motta både utmärkelser och kulturpriser. Bland annat Illis quorum (2017), Stig Dagermanpriset (2019) och Prins Eugen-medaljen (2020).
Brittas broderier är miniatyrvärldar formade med nål och tråd. De innehåller scener ur vardagen, politiska reflektioner och berättelser om samisk kultur och historia. Den storslagna naturen och det gnistrande vinterlandskapets vita snö är ständigt närvarande.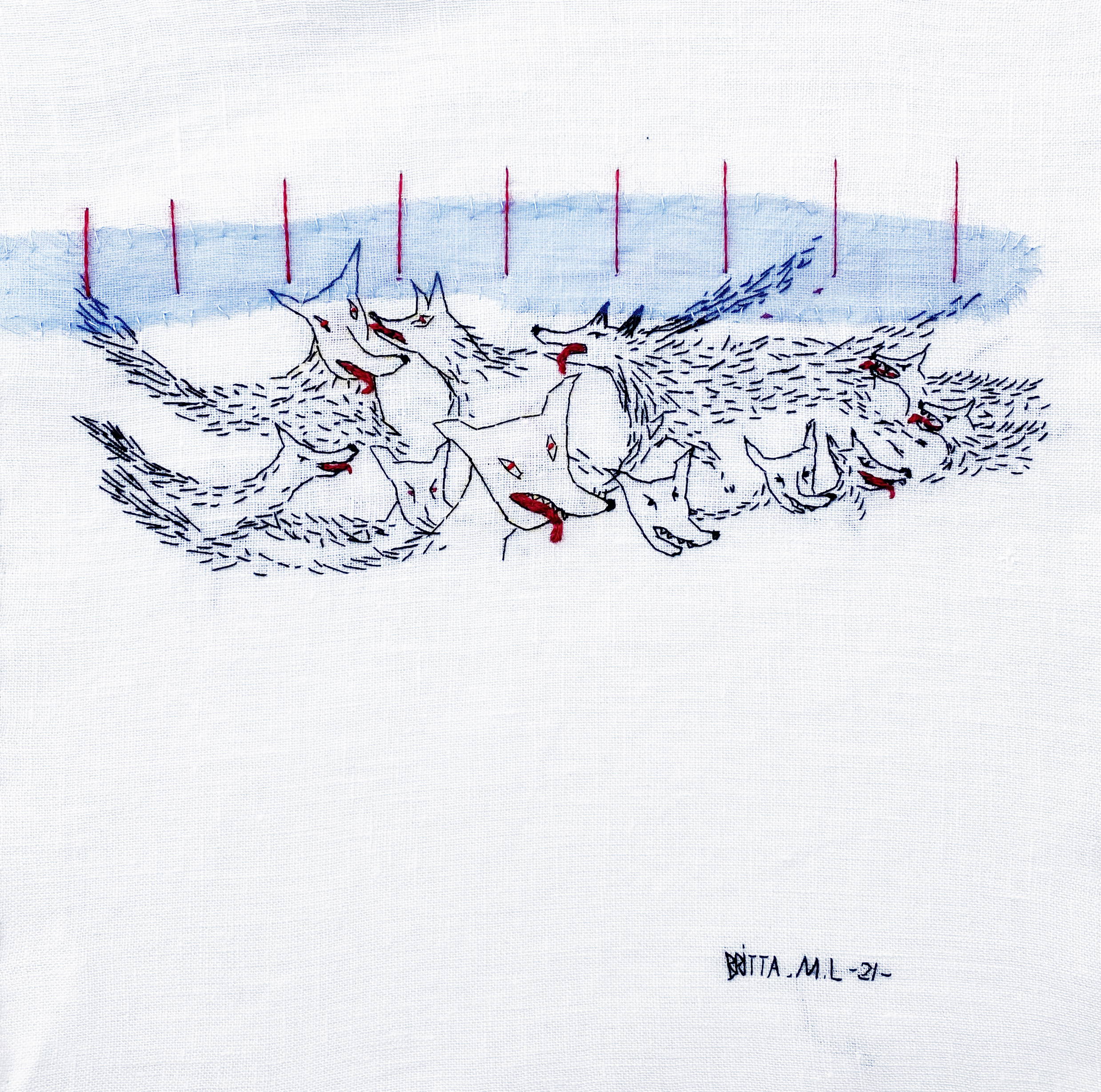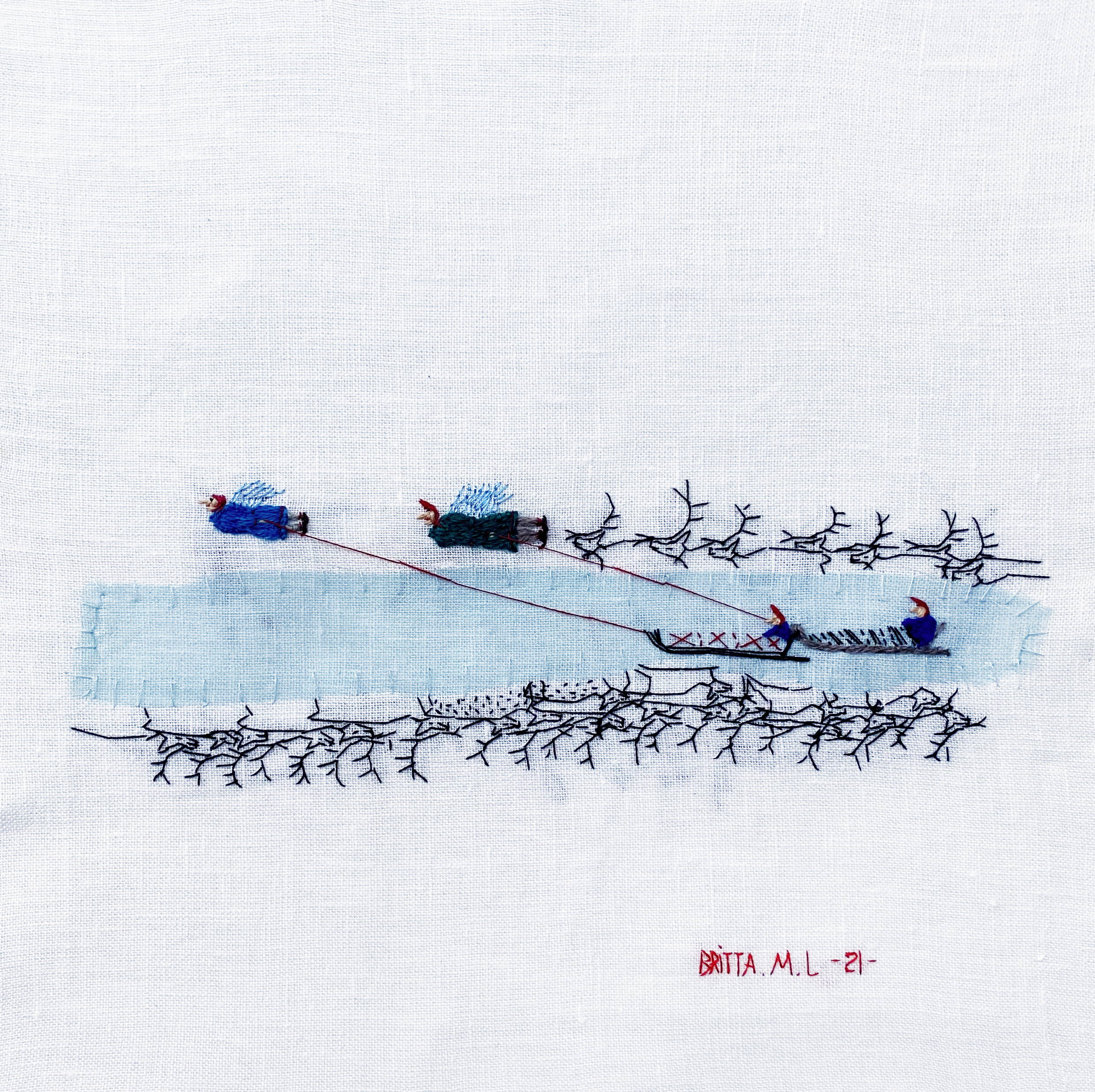 ---
English:
Britta Marakatt-Labba "Hungry" - exhibition at Sturehof Restaurang, Stureplan 2, Stockholm
A collaboration between Galleri Helle Knudsen and Sturehof Restaurant.
Opening February 13, 4 pm - 6 pm. The exhibition runs until March 27
Britta Marakatt-Labba was born in 1951 and grew up in a reindeer herding family in Saarivuoma Sami village. She began her artistic career in 1979 after completing her studies at the School of Art and Design in Gothenburg. Early on, she became involved with other Sami newly trained artists in building and forming a Sami artists' organization.
Today Britta lives and works in Övre Soppero and has been an active artist for over 30 years. She made her big international breakthrough in 2017 when her 24-meter-long embroidery "History" was shown at the contemporary exhibition Documenta 14. The work was created between 2003-2007 and depicts Sami history and mythology. The embroidery is today permanently hanging in the University of Tromsø.
For her art, she has received awards, among others, the Illis quorum (2017), the Stig Dagerman Prize (2019) and the Prince Eugene Medal (2020).
Britta's embroideries are miniature worlds shaped with a needle and thread. They contain scenes from everyday life, political reflections and stories about Sami culture and history. The magnificent nature and the white snow of the sparkling winter landscape are constantly present.