Marianne Lindberg De Geer: Modern konst i hemmiljö
23 september - 16 oktober, 2021




Vernissage torsdagen den 23/9 kl. 11.00-19.00



Marianne Lindberg De Geer är född 1946 och bor och är verksam i Stockholm. Hon är konstnär, dramatiker, kulturskribent och debuterade 2017 även som skönlitterär författare.
" Ser parken utanför vår bostad ut som den gjorde igår? Går vattnet att dricka idag? Luften att andas i morgon? Har vi tillräckligt med konserver för att klara ett längre elavbrott? Vart tar våra pengar vägen utan ettor och nollor? Kommer de fattiga i Bangladesh att fly hit när vattnet stiger? Har jag gått tillräckligt många steg idag? Tränat? Ätit rätt? Märket på armen, är det cancer? Kan vi verkligen hoppas på att barnen kommer att ha en vägg att hänga en bild på? "
Utställningen Modern konst i hemmiljö är Marianne Lindberg De Geers första separatutställning på Galleri Helle Knudsen och visar nya verk som blivit till med dessa framtidsfunderingar i kroppen.


Marianne Lindberg De Geer är representerad på bland annat Moderna Museet i Stockholm Nationalmuseum i Stockholm (Gripholmssamlingen), Skissernas Museum i Lund, Wanås Stiftelse, Norrköpings Konstmuseum och Göteborgs Konstmuseum.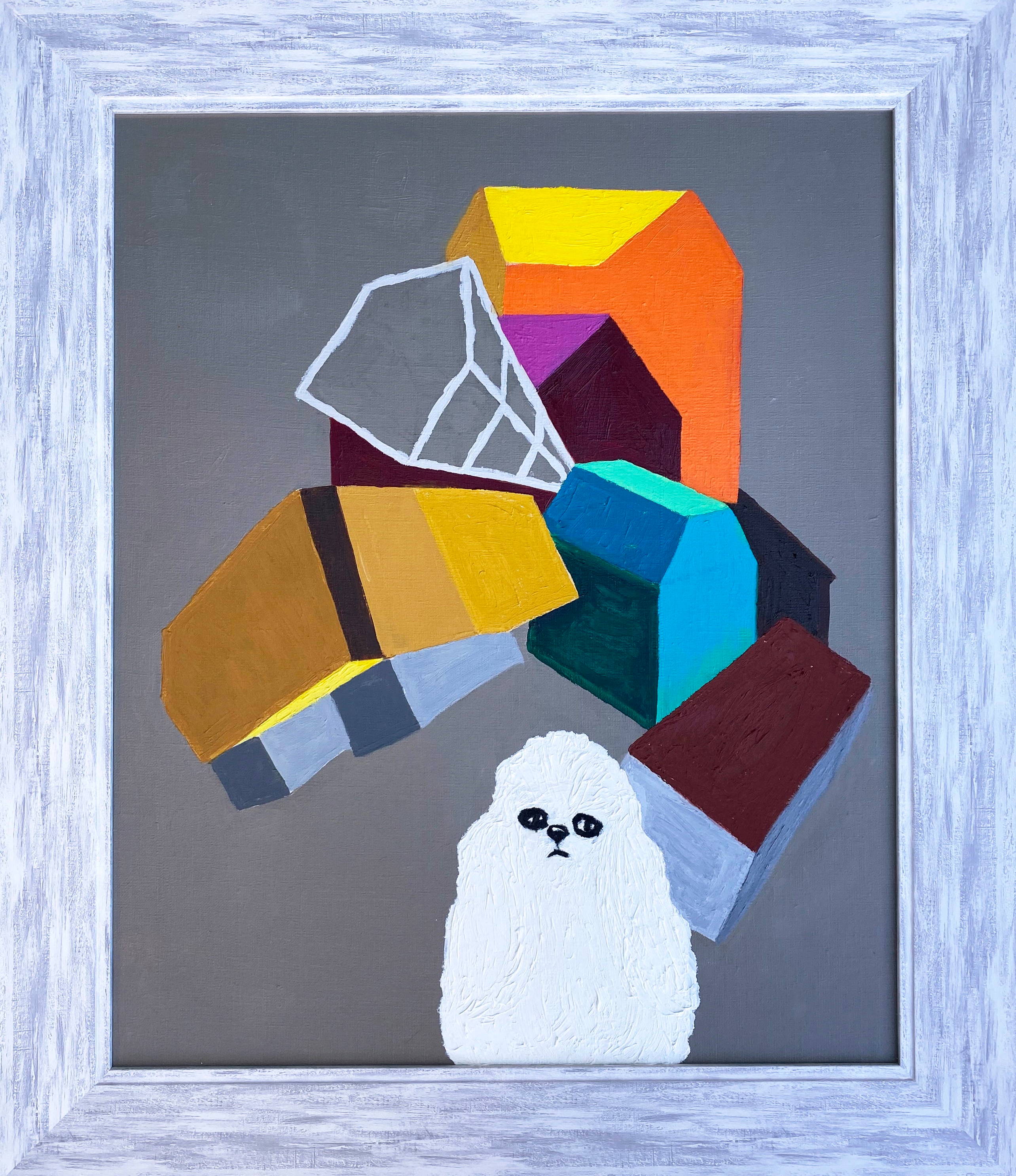 Faktaresistens
Olja på duk, 90x77 cm
Faktaresistens
Olja på duk, 73x63 cm
---
The exhibition Modern konst i hemmiljö is Marianne Lindberg De Geers first solo exhibition at Galleri Helle Knudsen. The exhibition title refers to an art salon in Stockholm that started right before World War 1 and was run by Elsa Lindström.
Marianne Lindberg De Geer was born in 1946 and lives and works in Stockholm. She is an artist, a playwriter, a cultural writer, and was also the head of the Arts and Design department at Kulturhuset Stadsteatern in Stockholm. In 2017, the art space Färgfabriken showed her much-appreciated retrospective Full speed ahead. At the age of 71, she debuted as a fiction writer with the novel På drift.
Much of Marianne's art has provoked and created debate. The artwork Jag tänker på mig själv (I Think of Myself) in Växjö has been vandalized on several occasions and created a cultural debate in both the press and television. The work Mate Hunting in Borås, centrally located in Stadsparken, has also endured repeated vandalism and local art debate.
Marianne Lindberg De Geer is represented at, among others, Moderna Museet in Stockholm, Nationalmuseum in Stockholm, Skissernas Museum in Lund, Wanås Foundation, Norrköpings Konstmuseum and Göteborgs Konstmuseum.